Companis Board President, Anne Spangler, presents the Janet G. Newell Award to Sarah Speck, MD.
Sarah has been serving with Companis for nearly two decades. Her work on our Board has been significant, including in recent years when, as President, she encouraged Companis to expand into Snohomish County, and helped pave the way for Companis to support and promote diversity, work for equity, and model inclusiveness.
"In my life, I've dealt with all kinds of people who've had heart attacks. Some speak English, some don't. Some of them are from Russia. Some of them are from South America. Some of them are from China. And I have to know how to approach them so that they can be as healthy as possible and have a successful life. So it (the diversity work) felt natural." As a cardiologist, 12-hour work days have not been uncommon for Sarah, so why would she add more to her plate by getting involved with Companis?
"As a physician," she says, "I realized in the exam room that I was making a difference in people's lives, one-on-one. But I was looking for something more." Compassion and a generosity of spirit are values she embraces and she says Companis matches that. "Then there's perseverance – the belief that we can make a difference."
That perseverance came into play as Sarah shepherded Companis through the pandemic – choosing to expand and deepen Companis' work instead of maintaining a service status quo. Sarah said she used her training as a doctor to lay out a plan and work with the Board and the staff. "I think as a physician. You have to prepare. You can't just walk into an operating room without people knowing what they're going to be doing."
And how about her childhood? Did that inform her desire to serve her community?
"My grandmother lived next door. My father's sister lived next door to her. And my father's other sister lived next door to us. Everybody had a common vegetable garden and common work that needed to be done. You celebrated your cousin's success in basketball, just like you celebrated someone's graduation from college. And that's what led me to become a citizen of something larger."
Companies Board President, Anne Spangler, presented the 2022 Janet G. Newell Award for Community Service to Sarah at a recent board meeting with these words: "It's very difficult to step into your shoes as the Board President. You've been an amazing leader and an inspiration to all of us." Other board members and staff toasted Sarah, calling her a "trailblazer" and a great "ideas person."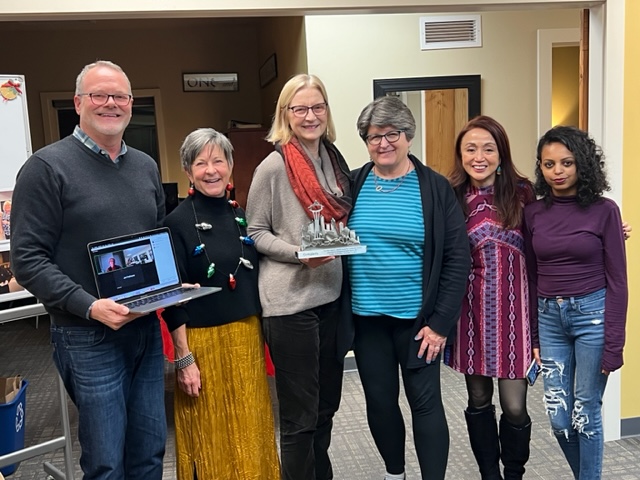 We're so grateful for everything Sarah brings to Companis, and that founding director Craig Darling invited her to consider a board role. She is now President Emerita of the Board where she serves on the executive committee as a non-voting member, offering her guidance.
And as Gary has reminded us, "This is not a goodbye, this is a new chapter."
Check out Gary's eight-minute interview with Sarah (below).