Sarah Speck, MD
President
Cardiologist in private practice
Founder of POTENTRx, a medical fitness company
Constance Wilkinson
Vice President
Retired
Health Care Executive Leadership
Sallie Neillie
Treasurer
Retired
Founding Executive Director of Project Access Northwest
Anne Spangler, JD
Secretary
General Counsel
Snohomish County Public Utilities
Shawn Aronow, JD
Board Member
Attorney
Snohomish County Public Utilities
Gary Davis
Board Member
Executive Director
Companis
Jennifer Freimund
Board Member
Retired  Nonprofit ED
Brian Hawksford
Immediate Past President
Strategic Advisor
City of Seattle
Pinky Herrera
Board Member
Program Manager, Community Health Investment
Swedish Health Services
Rita Hibbard
Board Member
Retired
Asst. Managing Editor, Seattle P-I
The Hon. Mitzi Johanknecht
Board Member
Sheriff
King County
Tesfa Melaku
Board Member
Case Manager
City of Seattle
Gary Davis
Executive Director
Gary's background is in nonprofit management, public policy, civic affairs and communications, having worked in a variety of positions within public broadcasting and nonprofit agencies, and for political and policy organizations and causes. He is a former online news host and digital news editor. He holds a Masters in Nonprofit Leadership from Seattle University and a BA in communications from the University of Washington.
Karen Hundrieser
Associate Executive Director/Worker Engagement
Karen's background includes pastoring five congregations, leadership in social service community programs and teaching at the college level. As pastor, she launched and re-invigorated critical social service community programs, including food and nutrition services, after-school programs and more. She holds a BA in Leadership Development and a Masters in Theological Study from Garrett Seminary at Northwestern University.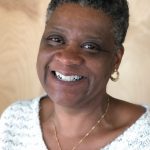 Cynthia Hunter
Outreach Specialist
E-mail Cynthia
Cynthia Hunter comes to Companis after successful careers in retail banking, residential real estate, and non-profit business management.  It was through her work with American Baptist churches that she learned of Companis and the selfless work of its representatives. Cynthia's partnership with Companis is a natural fit since she continues to serve as a volunteer at non-profit organizations throughout the greater Seattle area.  During her time as a Companis Worker, Cynthia served at Byrd Barr Place and with Fabian's Fund before joining the Companis leadership team. Being able to help multiple agencies serve their communities is the fulfillment of a lifelong dream. 
Companis Diversity, Equity and Inclusion Statement
INTRODUCTION:
Loosely translated from the Latin, Companis means 'sharing bread' – descriptive of the fact that we are about relationships: matching, building, sustaining and nurturing relationships to bring sustainable assistance to our neighbors excluded from basic services and healthy community.  Relationships where all are heard, valued, respected, supported and empowered.
As we engage in this work of social justice, we are called to include multiple viewpoints and perspectives, to uphold and honor different cultural and life experiences, so that our work and community may be strengthened.
To that end, we believe it is important for us to make our commitment to diversity, equity and inclusion evident throughout our organization: policies, Board of Directors, staff, workers, strategic plan, and donors.  We believe this commitment is essential to accomplishing the work we do and flows directly from our core values and stated goals.
FULL STATEMENT OF DIVERSITY, EQUITY AND INCLUSION
 Inherent in its creation, history and present strategic plan, is the intention of Companis to support and promote diversity, work for equity, and to model inclusiveness – to counteract the effects of oppression.  As we move forward to reassess what this means for us today, let us continue to acknowledge that oppression happens at all levels, reinforced by societal norms, institutional biases, interpersonal interactions, and individual beliefs.  Companis seeks to acknowledge our journey and to be challenged by our continued desire to engage in the work of diversity, equity, and inclusion.
Diversity and inclusion in Companis – from the Board of Directors, to staff, to Workers, to agencies served, as well as the people and neighborhoods being served by those agencies – enrich the ideas and perspectives that we use in formulating our work and the breadth of work we are able to accomplish.  Diversity and inclusion ensure that multiple viewpoints are considered in decisions about priorities, the relationships that we establish, and the communities we affect. Equity as an organizational goal indicates that our aspiration is to broaden our understanding of and impact on the underserved population in Seattle, not only in an unbiased manner, but in ways that bring healing and wholeness to the community.
Companis is born out of the stated need to bring sustainable assistance to our neighbors excluded from basic services and healthy community.  From our inception, our mission has been to serve those who have been marginalized and intentionally excluded in our community.  At the onset those identified neighbors were the LGBT community, particularly those affected by the AIDS crisis, and refugees from violence in Central America.  As time and circumstances have changed, those neighbors have come to include the homeless, those facing barriers to health and mental health services, people in recovery, immigrants and refugees from around the world, the LGBTQ community, people of color, and those targeted because of faith identification.
When a collective group of people decides to marginalize such communities, those communities are usually also under-represented and even negatively represented in our legal system, educational system, the media, public policy, and hiring practices.  To that end we have advocated for our underrepresented neighbors to receive a voice and attention in these areas by working for change in policy and law, and working to increase opportunities.
The second piece of our stated mission is to foster the skills of volunteers with a deep desire to serve their neighbors.  The Companis model pairs sophisticated matchmaking with volunteer support rooted in reflection practices and community building.  Our priority is relationships: matching, building, sustaining, and nurturing relationships between our workers and partner agencies and among and between workers.
Companis has historically attracted volunteers who are committed to social justice to be paired with agencies involved in social justice.  In our work of support and reflection, our Worker support program has been at the forefront of dealing with issues of race, diversity and inclusion – both on an institutional and personal level.  Workers and staff have had – and will continue to have – some difficult conversations around language, assumptions and values.  We have identified goals, and as those are met, new goals will come forward. We are open to discussing items specific to our goals upon request.