Our inaugural annual fundraiser, Companis Showcase 2022, was brimming with personal stories from a variety of people who show up for their community. We welcomed Companis Workers on stage to reflect on their volunteer journey with Companis and to hear about the impact it's made on their lives and the nonprofits they served. We also welcomed our featured speaker, Chukundi Salisbury, a longtime manager for Seattle Parks and Recreation, and a lifelong volunteer and community activist, and a leader with our partner agency Mothers for Police Accountability. He brought energy and enthusiasm to his talk about showing up and encouraged us to listen to those we want to serve. In addition to our live presenters that night, video segments presented Companis Workers at an Everett food bank and a Bellevue family shelter. And we shared recorded testimonials of donors and executive directors from nonprofit partners who told us about why Companis is worth supporting.
Here are some highlights from the evening:
Featured speaker, Chukundi Salisbury:
"How we show up is how we listen and determine what people need. And that's honestly one of the things I love about what Jennifer (Wing, Associate Executive Director for Programs) does when she asks (potential volunteers and nonprofit partners) "What do you need?" We have long conversations because she really gets down to what people need and that is the true piece of service for me in how you show up. It's not how you want to show up, it's how they need you to show up."
Companis Worker Panelists: 
Here are excerpts from answers to a question posed by panelist moderator, Jennifer Wing, Companis Assoc. E.D : "What did you learn about yourself while you were a Companis volunteer?"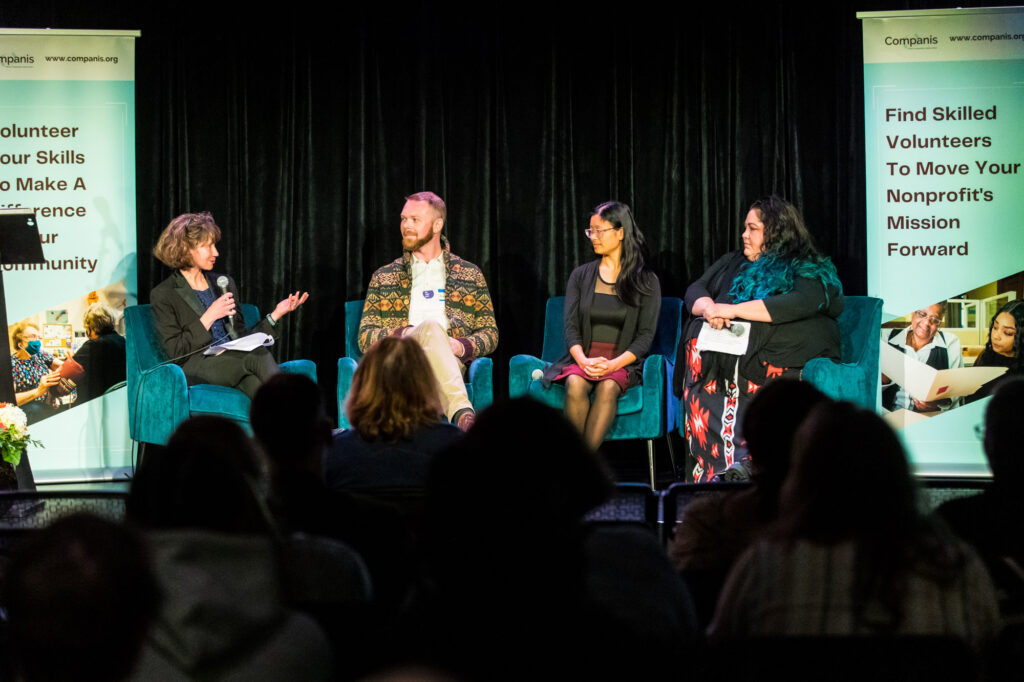 Aric Skurdal was a Companis Worker with Plymouth Healing Communities, serving as interim Executive Director:
"For me, I think the challenge I had to lean into was being able to trust the people that I was working with on staff and on the board and to especially be able to talk with fellow white people about what it means, what we need to change, to support people of color who are on staff, and who are receiving services."
Jennifer Chin, MD MS was a Companis Worker with Project Access Northwest, connecting the uninsured and underinsured with access to medical services:
"My goal when I was placed at Project Access was to learn about the barriers to healthcare and I felt that I already knew what most of these barriers were through the classes I had taken, through my undergraduate at (U.C.) Berkeley with public health classes, learning about different systemic issues. But my year with Project Access really taught me on much more individual level all the different struggles and barriers that could prevent someone from just coming to a clinic appointment."
Jennifer is now a practicing physician with UW Medicine, specializing in obstetrics, gynecology and complex family planning.
Jenn Eaglespeaker was a Companis Worker with North Helpline where she is now on staff, serving as the North Helpline's Client Services Coordinator.
"I learned patience as a virtue where I work. As much as we can help people, there's a lot we can't do, and that's really hard for me. As a traditional Indigenous woman, we are taught to raise our people up and do what we can to be of service. There are so many "no's" that I have to say every day, it's very difficult. We're able to help so many people but there is so much need out there. It gave me perseverance to keep looking for more ways to fill those needs for folks and patience, because there's only so much you can do in one day."
Thank you, again, for making Companis Showcase 2022 a success. We made our goal, raising $170,000, which will go toward our program of placing skilled volunteers with nonprofits that need them.
If you would like to watch the recording of this event, please click on the video link on our homepage.